Auckland Live Showdown is the Auckland secondary school production competition.
And the best part is you don't have to do anything other than create the same awesome show that you would anyway!
Our judging team, who are all experienced theatre practitioners, come along and watch your production.
Early in Term 4, the judges release their lists of nominees in a wide range of categories – performance, technical and production; musical and drama.
In November each year, we hold the Auckland Live Showdown Awards night. This is a chance for your school – students, staff,
parents and friends – to dress up (ball outfits are great!) and celebrate the performing arts.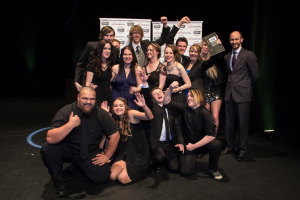 The aim of Showdown is:
To encourage young performers and foster excellence in the performing arts.
To promote the performing arts as an option for tertiary study and as a career path.
To raise the profile of performing arts in school.
To build links between school performing arts programmes and Auckland community theatres.
Auckland Live Showdown is a focal point for secondary school performing arts in Auckland.
Are YOU ready for Showdown?